Very often people ask me to make/knit/crochet something for babies or children form the pictures.
I do like that!
Very often my friends ask me how do I do it.
Today I would like to show you my recent order - Patriotic Set for NB
Along with this Patriotic set request, I got an order of 33 items, and a tiny picture of the set.
I got it probably a month ago.
No rush, I was told.
Here is my 33 pieces order, already sent off -
While I was working on the order, I needed a little break, as always, so I made a small area rug, long due to replace the old one.
Here is
the project on Ravelry
, where you could get more information about it.
I kept on trying to make the Patriotic set, which is also looks like a Dr. Seuss book character's hat.
The image I had was very, very small. I couldn't see hardly anything!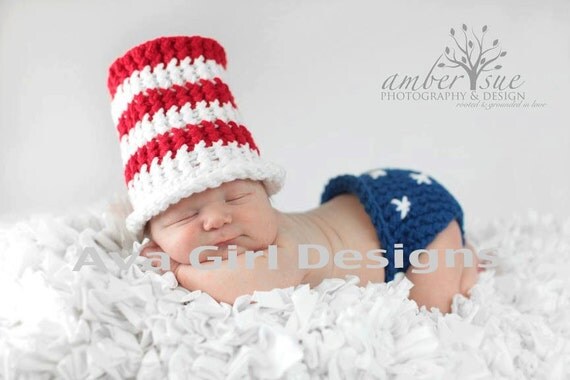 I made a picture search and found the source. The work was done by a lady from CA, and here is her Etsy shop -
AvaGirlDesigns
The hat and diaper cover are done on a round/flat loom.
I am not big fan of the loom, I think this device is mostly for children or novices. Don't get me wrong - it is a perfect help if you are a beginner! I got it, tested it out, and set aside, for my daughter.
I do have the loom, though, but, if you know me, I wanted to make this set better!
Right?!
That's why I tried and tried a lot of stitches, hook #s, different yarns...
Tonight, I finally finished one mock-up set and will send the pictures to my customer for approval.
Another thing I need to note, my price for the set is going to be the half of that on Etsy..., probably around $23-25.
I do apologize for the quality of my pictures, it is midnight here.
Please let me know what do you think about this set -